2023 REV FEST - featuring MotoAmerica & 1/8 Mile Bike/Sled Shootout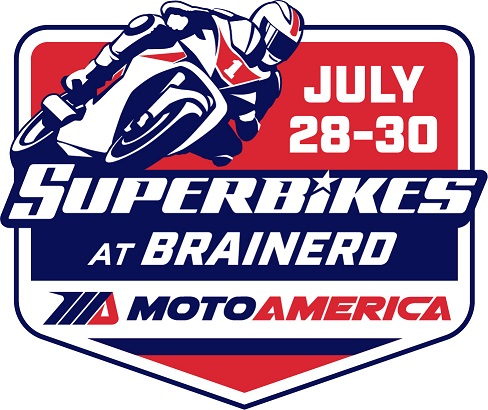 How about 190 mph superbikes and some family fun? MotoAmerica Superbikes at Brainerd July 28-30, 2023. Enjoy practice and qualifying on Friday plus all-day racing Saturday & Sunday! Six classes of road racing – Medallia Superbikes, Supersport, Stock 1000, Junior Cup, Mission King of the Baggers & Royal Enfield Women's Build.Train.Race. Meet the riders in our open race paddock! Come see the Stunt Show and Bike Show! VIP and Camping access packages available. Kids under 12 free with paying adult.
**New for 2023**
--ALL MULTI-DAY admission tickets include Per Person Camping - meaning if you have a multi-day ticket you can stay and enjoy the nightlife!
-- All RV/Campers are required to choose a type of campsite:
-- VIP (Full Service) Reserved (includes RV/Camper pass)
-- Fenceline Zoo Reserved (includes RV/Camper pass)
-- Infield Zoo Non-Reserved (includes RV/Camper pass)
--Zoo Reserved Fenceline Campsites - prime fenceline camping spots now available

Please call the BIR Front Office if you have questions regarding tickets and pricing. 218-824-7223
Ticket Prices: (Advanced /
Gate (7/1/23-event)
Thu-Sun/Crew - $140 / $150
Fri-Sun/Crew - $130 / $140
Sat-Sun/Crew - $120 / $130
Friday Only/Crew – $25
Saturday Only/Crew – $50
Sunday Only/Crew – $50
Kids 12 and under are FREE.
VIP Campsites (weekend) - $300
Zoo Reserved Fenceline Campsites (weekend) - $100
Zoo Non-Reserved Campsites (weekend) - $50
Electric - $50 (weekend)
ATV - $50
(Valid for this weekend only!)


CLICK HERE - to purchase Harley-Davidson Screamin' Eagle VIP Ticket Package (does not include camping)