2022 Thunder at the Lakes & IWA & BMW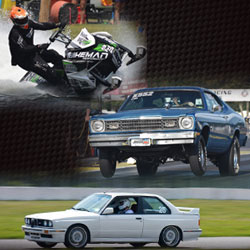 June 3rd - 4th
- Thunder at the Lakes always brings some of the best Sportsman drag racers in the country to BIR, but this year's event will take on a completely different look.
Watercross is crazy fun racing that you can't miss. Lake BIR, the pond in the middle of BIR's PleasureLand RV VIP Campground, is transformed into a race track for snowmobiles as they race on open water. There will be drag racing (from one shore across the lake to the other) and oval racing, where racers make four or five laps around floating bouys. Eight classes will race: Pro Open, Pro Stock, Semi Pro Open, Semi Pro Stock, Women's Ovals, Mod Drags, 800 Drags and 600 Drags
IWA Racers, Crew & Spectators - Gates will open Friday @ 7am.
When purchasing tickets please only purchase tickets from Friday on. If you arrive prior to Friday morning, you will need to park and wait in the field outside the gate.

Divisional Racers, Crew & Spectators - Gates will open Thursday @ 7am.