2022 Bracket 4 & CRA - Drag Racing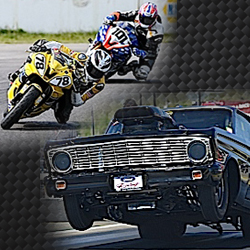 July 15th - 17th
- BIR's Bracket Drag Racing Series features some of the best amateur drag racing in the country as 250+ drag racers compete in 10 different classes. Fans can see dragsters, cars, trucks, bikes, snowmobiles and Junior Dragsters, all of which are competing for prize money, hardware and all-important series points that go toward series championships at the end of the season.
**ONLINE SALES STOP Wednesday, July 13th @ 12pm CST**
Ticket Prices (Gate / Online in advance):
Thu-Sun
- $65 /
$60 (if purchased online)Fri-Sun
- $60 /
$55 (if purchased online)Sat-Sun
- $45 /
$40 (if purchased online)Friday Only – $30Saturday Only – $30Sunday Only – $10Kids 12 and under are FREE.
VIP Campsites (Sold by the night):
Thursday-Saturday
- $120
Friday-Saturday
- $80
Saturday Night Only
- $40
(Available at the gate only)

Electric
- $40 (weekend)
ATV
- $10 (
Excludes:
Nationals, MAP Proving Grounds, MotoAmerica, Street Outlaws, Powercruise & Lakes Jam)